Make a cake joke in the Talkback and you'll get launched into SPAAAAAAACE.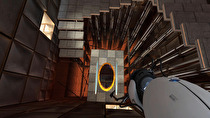 The eShop is going to be busy today with two new titles and a demo for one of next month's releases.
A demo for Live a Live – with the traditional save data carryover – will include the start of three of the game's seven scenarios: Imperial China, Twilight of Edo Japan, and The Distant Future
The Portal Companion Collection – the compilation of the two spatial puzzle titles announced in February's Nintendo Direct – is slated to drop "later today".
Side-scrolling action RPG Little Noah: Scion of Paradise – the newest title from Cygames, who previously developed the soon-to-shutter Dragalia Lost – will also be available today.