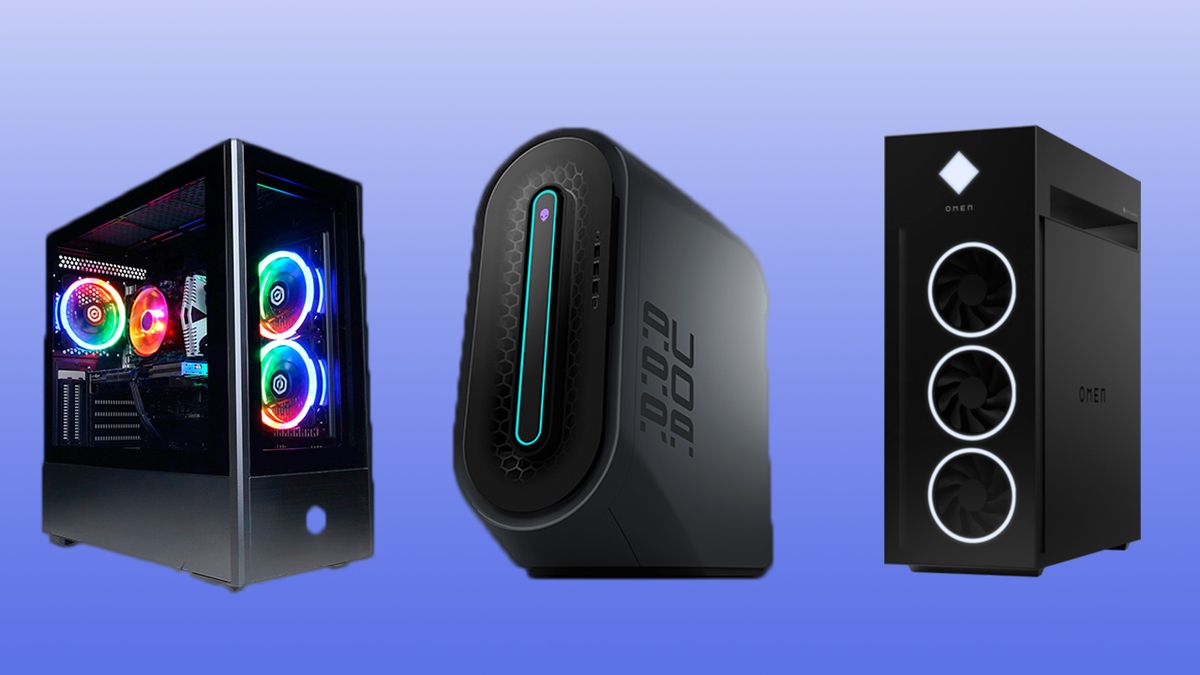 A cheap gaming PC is the best way to score a GPU right now, and you can get some nice rigs for a reasonable amount of money. It takes some careful looking, but if you know what to search for, a good gaming PC isn't far away. We recommend building your PC, but sometimes that's not feasible. If you're someone that doesn't want the fuss of building a PC or just can't find a GPU, these desktops are for you.
The build process does take time and patience. And with the right cheap gaming PC deal, you can avoid that barrier, and maybe even end up saving a bit of money over building your own. At the very least, it's a whole lot more convenient. And if you'd rather stay portable we've got the best cheap gaming laptop deals to keep you covered too.
In this frequently updated hub, we look out for the best gaming PC deals online and separate them out into price categories. Budget gaming PCs between $500 and $1,000 should be able to play most modern games at 1080p and good graphical settings. The higher-end systems above $1,000 come with more powerful CPUs and graphics cards.
We also don't judge purely on price: the components in these PCs matter, and we consider how the parts compare to what you'd buy in a DIY rig. In most cases, these machines won't be the ones from our best gaming PCs list, but whatever you're getting will be worth the price.
Where should I look for the best gaming PC deals?
Cheap gaming PC deals
$500-1,000
$1000+
Should I build my own gaming PC or buy a prebuilt?
One of the biggest advantages to putting together your own budget gaming PC build is the ability to essentially choose every single component in the system. This allows you to take your time shopping around for deals and finding the perfect combination of parts to fit your budget and performance needs. The downside for most inexperienced builders is that this whole process can take some time and has the potential to cause quite a headache if something goes wrong. This is where prebuilt gaming PCs really shine.
When you pay the premium to configure or purchase a prebuilt PC you are paying for more than just the parts. You are paying for warranty service, support and the peace of mind that your system was put together by professionals. These are some of the things we value highly when considering the best budget gaming PCs. We also look at other unique selling points like design, upgradability and anything you wouldn't be able to do when building it yourself.
The other benefit in 2021 is that prebuilt PCs are a better, or at least more reliable, way of finding a graphics card at a reasonable price. The ongoing silicon shortage and high demand makes finding discrete GPUs tough to find at anything close to their original prices, so prebuilts are somewhat invaluable today.
For most users that don't have the luxury to spend over $1000 on a prebuilt gaming PC, upgradability and performance per dollar are paramount. When we set out to choose our top choices for budget prebuilt gaming PCs, we took a look at almost every major manufacturer and system integrator to find the best combination of value, reliability, customer feedback, design and performance under $500 and under $1,000. 
We still highly recommend the experience of building it yourself, but if you can't do that then one of the systems above will have you gaming in short order.