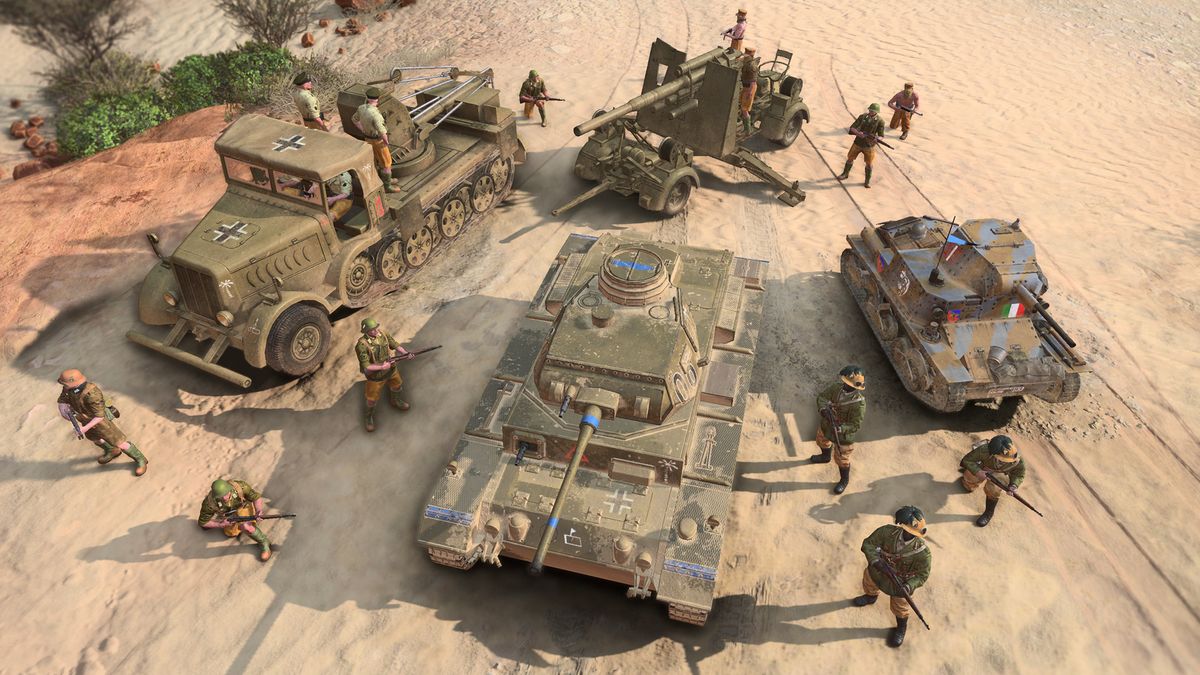 The World War 2 RTS Company of Heroes 3 (opens in new tab) is set to launch in February, but before that happens a multiplayer tech test will take place on Steam beginning on January 11—and you can sign up to take part now.
This tech test is open to everyone, and getting in is very simple: Just head around to Company of Heroes 3's Steam page (opens in new tab) and click the "Request Access" button for the playtest, available just below the pre-purchase options. Click again to confirm, and you're done—that's it, that's the whole process. You'll be notified by email when the test goes live, or if you sign up after it's already underway, you'll be prompted to download the test version immediately.
There have already been a couple of multiplayer tests for Company of Heroes 3, and we've also had some hands-on time with the campaign. which has changed quite a bit (opens in new tab) over the course of the past year; developer Relic also recently confirmed that Company of Heroes 3 will support mods (opens in new tab) at launch.
Unfortunately, players in this upcoming tech test won't get to sample the campaign, as it's strictly for multiplayer, primarily to stress-test Relic's servers ahead of release. But executive producer David Littman told us in December (opens in new tab) that it's also a good way for newcomers to the series to see if it's something they'd be into. Given the price—that is, free—I'd have to agree.
The playtest will include PvP and AI skirmishes for 1v1, 2v2, 3v3, and 4v4, with all four launch factions—US, British, Wehrmatch, and Deutsches Afrikakorps, which for some reason is categorized separately from the Wehrmacht—and a total of eight maps. The test will kick off at 10 am PT/1 pm ET on January 11, and run until the same time on January 16; downtime is scheduled for 1pm PT/4 pm ET to 3pm PT/6 pm ET on January 12, but the exact timing will be dependent on player numbers. 
Here's what you'll need to play:
Minimum:
Requires a 64-bit processor and operating system 
OS: Windows 10 
Processor: Intel i5 6th-gen or AMD Ryzen desktop processor with 4 cores @3GHz, or equivalent performance 
Memory: 8 GB RAM 
Graphics: NVIDIA GeForce GTX 950, AMD Radeon R9 370, or equivalent performance 
Storage: 40 GB available space 
Recommended:
Requires a 64-bit processor and operating system 
OS: Windows 10 64-bit 
Processor: Intel i7 8th-gen or AMD Ryzen desktop processor with 8 cores @ 3GHz or equivalent performance 
Memory: 16 GB RAM 
Graphics: NVIDIA GeForce GTX 1660, AMD Radeon RX 5600, or equivalent performance 
Storage: 40 GB available space
"Your participation will allow us to prepare for launch by testing our infrastructure on a larger scale," Relic's full tech test announcement says. "The test also helps us identify new bugs and issues that cannot be caught without having thousands of people playing the game at the same time. 
"Your feedback during this test is critical. Though the game is essentially ready for launch, your feedback on your experience – everything from faction balance to units to systems and more – will help inform fixes and patches in the first few weeks and months of the game's life. This will also help us iterate on quality-of-life improvements, feature priorities, future iterations of gameplay elements and content."
Relic also shared a list of known issues and bugs that will be present in the playtest, which you can dig into below:
Twin Beaches has the incorrect territory point income and Victory point count.  
Battlegroups may show as pink placeholder boxes after finishing an automatch game. 
If a player leaves while a match is loading, there may be an error loading match stats afterwards. 
There is a slight chance that if the host of a lobby searches for an automatch game, then fails the search and leaves the party, once they try to rejoin they will not see themselves in the lobby. 
If a lobby host selects "Start Match" as a player is changing their Faction selection, they may load into the game with Battlegroups that do not function. 
The Smoke Launcher ability on the Panzer III cannot be used more than once. 
When certain units pick up a team weapon from a different faction, they may use that unit's voice lines. 
White Phosphorus tracer rounds have the wrong color. 
The 251 Medium Carrier is missing a voiceline to indicate when Auto-Reinforce is enabled or disabled. 
Stuka Anti-Tank Loiter ability is not functioning as intended.  
All Loiter abilities are targeting units in a larger area of effect than intended. 
Constructing and repairing may cause certain units to t-pose. 
Text chat box may get wider than intended when typing long messages. 
Wehrmacht Sniper is missing Veterancy descriptions.