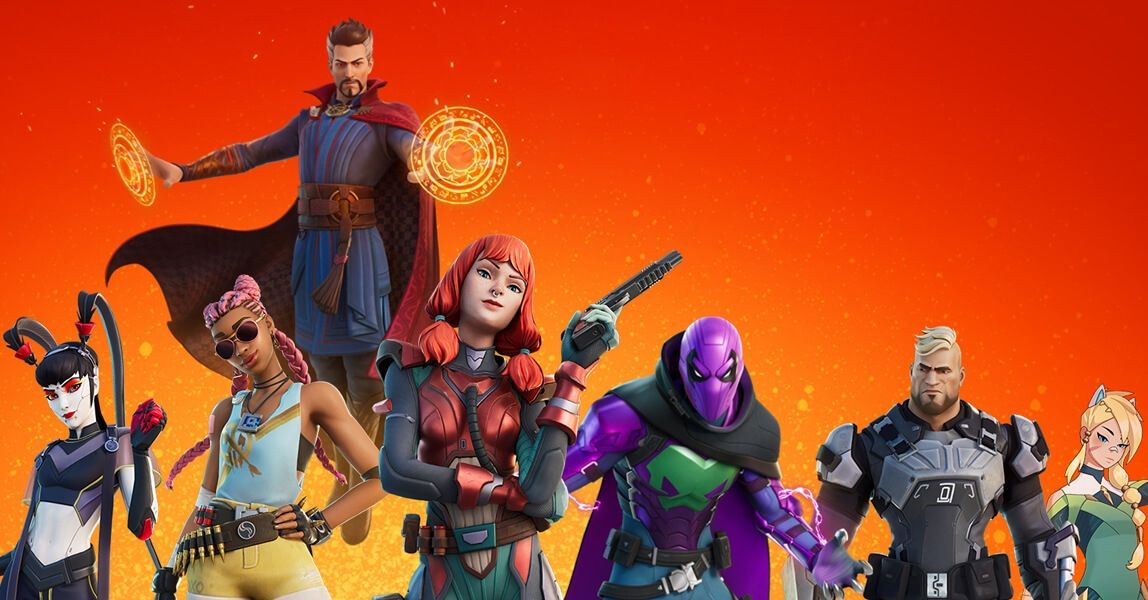 Fortnite Chapter 3 Season 2 is here, and it started with a bang: building is gone.
That's right, Fortnite has turned off building in its default mode. All those people who swore they'd try Fortnite if it took away the option to construct a skyscraper underneath yourself at the drop of a hat, or imprison someone in a box then edit the walls to shotgun them before they know what's happening, finally have no excuse. 
Something pretty significant had always been predicted for Season 2, since Chapter 3 got off to a banger of a start—finally adding in Spider-Man, a wealth of new gameplay mechanics like sliding and giant item-spewing dinosaurs, and a whole new map full of crazy weather effects.
Still, ditching the central mechanic that differentiates Fortnite from other battle royale games is a pretty bold move. What are they going to do now, rename it "Nite"? Well, no. For starters, it's only temporary. Doctor Strange has also shown up as part of Season 2, he'll probably find a way to put things back the way they were. 
Read on for the Season 2 battle pass details, official teasers, info on no-build mode, and more.
Watch the story trailer
Fortnite Chapter 3 Season 2 battle pass
The battle pass will let you unlock Doctor Strange—eventually. First, you have to unlock six other characters, though one of them, Tsuki 2.0, does get immediately unlocked once you've bought a battle pass. Those six characters are:
Tsuki 2.0
Gunnar
The Imagined
Kiara K.O.
The Origin
Erisa
(Image credit: Epic Games)
After they're unlocked, you'll be able to work on earning Doctor Strange. And apparently later in the season, Spider-Man villain the Prowler is being added to the list. How do you unlock them? With XP earned in battle royale, or from accolades in creative mode.
On the first page of the battle pass is the Omni Sword Pickaxe, a customizable tool that gives you access to Omni Sword Quests. New quests will be added each week for eight weeks, and completing them will give you omni chips to spend on blades, guards, colors, and sounds in the Reprogram Omni Sword Pickaxe section of the battle pass tab.
How does not being able to build work?
(Image credit: Epic Games)
For starters, building isn't disabled in competitive and arena playlists, team rumble, creative islands, or Save the World. It's only disabled in the default mode if you simply fire up the game and play, and it's only a temporary change. To rebalance around it, players can now essentially parkour across the map.
Movement has been upgraded, with boosted default speed and boosted sprint speed, plus a mantling option to clamber up and over objects at the cost of stamina. Doors can now be opened without slowing down too, either by sliding into them or using a new shoulder bash.
On the defensive side, in the absence of instant walls, everyone has an overshield. It sits on top of your regular shield and health, and can replenish even if it drops to zero.
Since players will be using vehicles to get around more, repair torches have been added to repair them, and vehicles can also be modified with cow catchers. 
(Image credit: Epic Games)
New equipment in Fortnite Chapter 3 Season 2
Two new weapons have been added: a combat SMG with a fair bit of recoil, and a striker burst rifle, a two-shot semi with a customized sight. 10 of the weapons from Chapter 3 Season 1 have returned too—ranger assault rifle, striker pump shotgun, auto shotgun, sidearm pistol, stinger SMG, hunter bolt-action sniper, Shadow Tracker (Exotic weapon), Marksman Six Shooter (Exotic weapon), The Dub (Exotic weapon), and Boom Sniper Rifle (Exotic weapon).
Unvaulted equipment? Yep. Here it is:
Thermal Scoped Assault Rifle (Adjusted – semi-auto, fires faster, reduced damage, increased recoil)
Drum Shotgun (Adjusted – fires slower, slightly increased damage, tighter spread, better falloff)
Revolver (Adjusted – fires faster, reduced damage, higher accuracy)
Remote Explosives (Adjusted – increased damage against vehicles)
Thermal Scoped Revolver (Exotic weapon)
Storm Scout Sniper Rifle (Exotic weapon)
Shockwave Grenades
Fortnite Chapter 3 Season 2 leaks
What else is coming in Season 2? According to HypeX, we'll also see earthquake fault lines begin to crack open along the roads just outside Tilted Towers.
Here's where the earthquake cracks will appear (the red lines), it's most likely multiple drillers or one going through the map looking for something, they enter Tilted for a short time but then they stop next to The Devoured landmark, and they also pop out of those 3 X's pic.twitter.com/G8oDQ52UENFebruary 23, 2022
See more
In addition to that, we'll evidently see jetpacks return in some form, possibly as loot chest items.
– Mythic Thermal AR, Shockwave Bow & Wolverine Blades- Legedary "Shield Aura" Backpack Item – Heals 50 Shield for you and your squad, and recharges (infinite)- Epic "Squad Burst Healer" Item – Heals 75 HP for the squad and recharges every 3 minutes (infinite)(2/2)March 5, 2022
See more