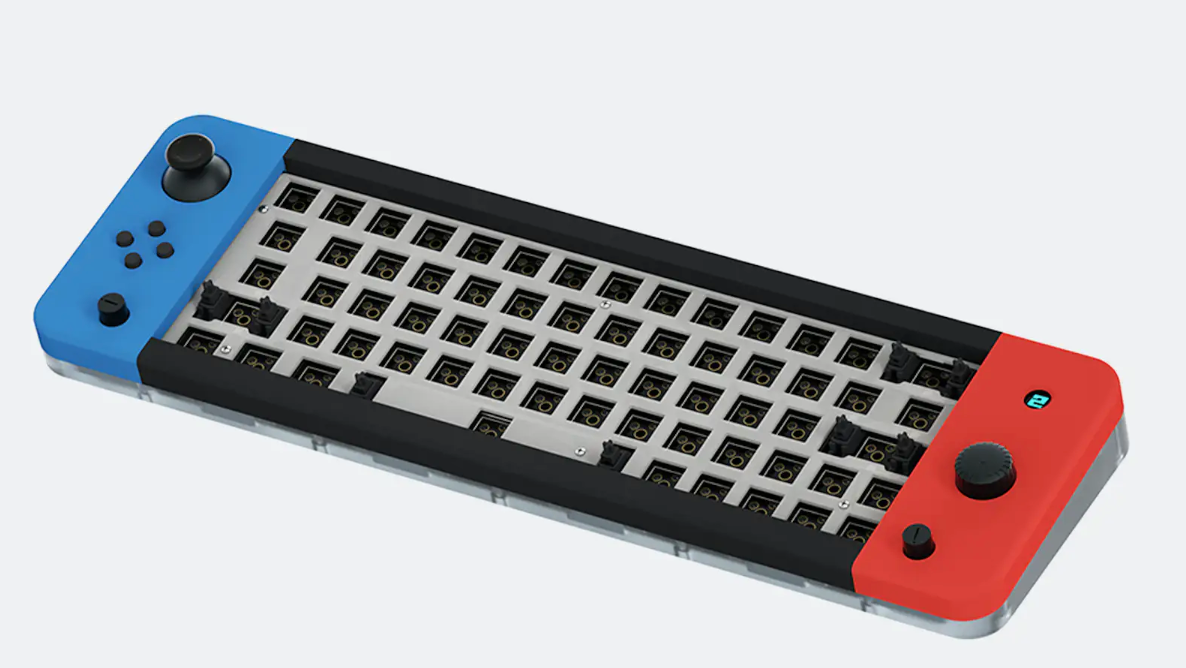 One of the things I love most in this world is silly, impractically designed PC gaming products that look cool. The Megalodon Console 64 keyboard (opens in new tab) fits the bill by looking like the result of a torrid love affair between the Nintendo Switch Lite and an RGB mechanical keyboard.
This $198 mechanical keyboard has an offset thumbstick and knob combo that look like Nintendo Switch Joycons and four buttons on the left that make it look like a d-pad. There are two smaller knobs on each keyboard end and a tiny little LCD on the top right. 
However, it doesn't seem like the Console 64 is meant to be used as a hybrid keyboard/controller though I'm curious to see what use case someone can come up with with all the knobs and joysticks. I can definitely see a photo or video editor getting creative with this thing.
The Console 64 comes with that classic Nintendo Switch Red/Blue color scheme as well as white, soy, yellow, and pink. You should note that the keyboard doesn't come with mechanical switches (opens in new tab) or keycaps (opens in new tab); you'd have to buy them separately, and they don't come cheap. When it's all said and done, you can easily spend up to $300 for these, depending on the switch/ keycap combo. 
Much like other Drop items we've highlighted in the past, they have a solid build quality and are an absolute dream to type on, assuming you're on the mechanical switches you like. And if the whole Nintendo Switch vibe isn't your thing, there are other cool, equally expensive keyboards to choose from. 
Pre-orders for the Megalodon Console 64 Keyboard are live for another week now for $198, with an expected ship date of April 28, 2023. Much like other Drop products, if not enough people pre-order, then the run is canceled, and you'll get refunded. That's the whole 'drop' thing.