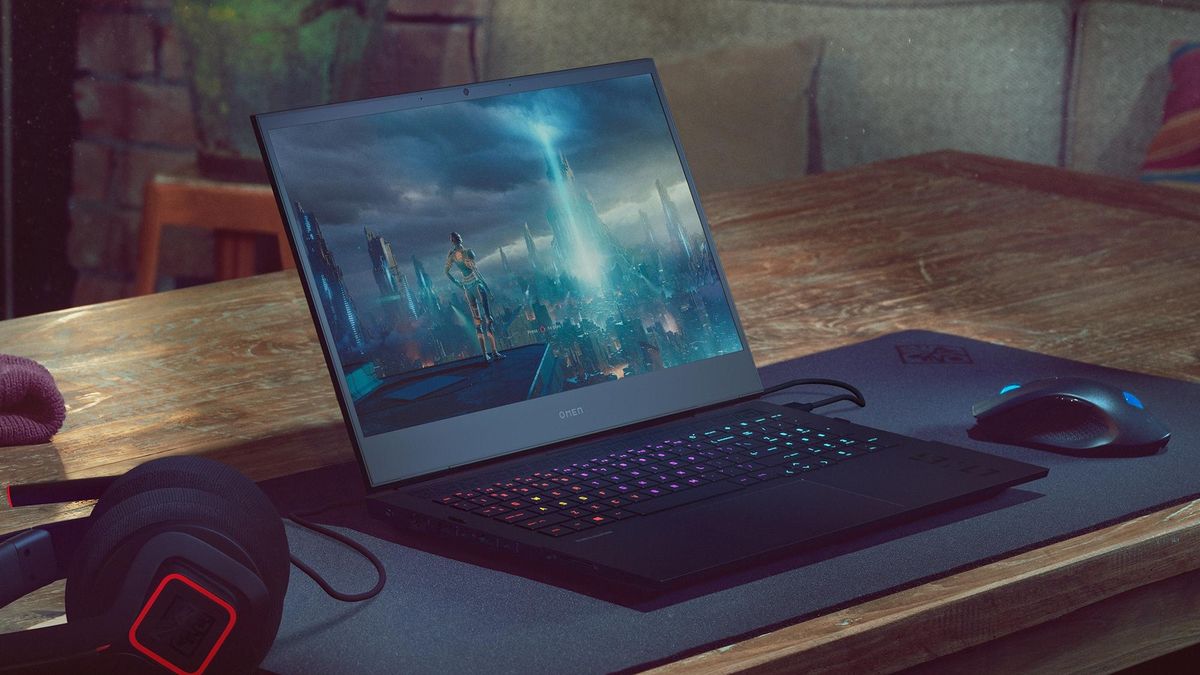 The holiday season is rolling around once again, and that means it's time to pick out some gifts for friends, family, and perhaps even yourself, too. If you or someone you know is a passionate PC gamer in need of a hardware upgrade, we have good news: Intel has you covered.  Between several top gaming laptops equipped with the elite 12th Gen Intel Core i9-12900H processor and the manufacturer's cutting edge 13th Gen Intel Core desktop CPUs, Intel and its partners have something for everyone.
Here's a look at some of the best Intel-powered devices and components available for the holidays, including both budget-friendly offerings and elite high-end options.
12th Gen Intel Core-powered gaming laptops enable elite gaming on the go
(Image credit: HP)
Gaming laptops are some of the most versatile gaming systems on the market, as they pack the incredible power of a traditional desktop into a compact and portable package. Many of the best ones feature Intel's beastly 12th Gen Intel Core i9-12900H, an elite mobile processor that Intel says is capable of outperforming competing CPUs across various games and programs. Based on tests shown in the Intel Performance Index, the chip delivers 66% better esports gameplay performance, 49% better AAA game performance, and 37% better performance for content creation-related tasks such as streaming and video editing.
One of these devices is the HP OMEN 16, a mid-range laptop that pairs the Intel Core i9-12900H with NVIDIA's RTX 3060 GPU, 16GB of DDR5-4800MHz RAM, a large 1TB SSD, and a beautiful QHD (2560×1440) 165Hz display. That panel comes with a 3ms response time, an anti-glare coating, and low blue light emission. Other features include Wi-Fi 6E and Bluetooth connectivity, two Thunderbolt 4 ports and three USB-A ones, and a snazzy keyboard with plenty of RGB lighting. 
Alternatively, there's the ASUS ROG Zephyrus 16, which kicks things up a notch with a more performant RTX 3070 Ti graphics card and a vibrant 500-nit WQXGA (2560×1600) 165Hz screen. Like the OMEN 16, it has 16GB of DDR5-4800MHz memory and a 1TB SSD for game storage, and also comes with Wi-Fi 6E compatibility, Bluetooth, and Thunderbolt 4 support. It costs a little more at $2,149.99, but the improved performance of the 3070 Ti means the device will support higher visual settings without a negative impact on the frame rate. 
New 13th Gen Intel Core desktop CPUs offer incredible performance
How about an upgrade for a desktop gaming rig, or something that you can use to start building one from scratch? Intel's brand new 13th Gen Intel Core desktop processors are perfect for this, as they offer stellar performance at competitive price points. They, much like the 12th Gen chips before them, utilize a combination of Performance cores and Efficient cores in order to deliver high-end horsepower while also keeping power consumption levels in check. Ultimately, whether you or someone you know wants to put together a capable budget system or create the ultimate top-notch system that can do it all without breaking a sweat, there's a CPU in the 13th Gen lineup perfect for the job.
At the baseline, there's the Intel Core i5-13600K that provides excellent bang-for-your-buck value. With 14 cores (six Performance, eight Efficient), 20 threads, a 24MB cache, and a max boost clock of 5.1GHz, you'll get a ton of fantastic gaming performance for just $319.99 with this processor. The next step up is the Intel Core i7-13700K, which adds two additional performance cores and four more threads for a total of 16 and 24, respectively. It's also capable of boosting even higher up to 5.4GHz and has a larger 30MB cache, and costs $439.99. Last but definitely not least is the mighty Intel Core i9-13900K, which features 24 cores (8 performance, 16 efficiency), 32 threads, a 36MB cache, and an awesome max clock speed of 5.8GHz. It's the most expensive CPU of Intel's new generation at $659, but it's also the undisputed king in terms of performance.
You can find all of the above CPUs on Newegg, along with a variety of "F" variants of each one that don't come with integrated graphics, but are a little more affordable as a result. Newegg's 13th Gen roundup also includes a number of popular 13th Gen-compatible motherboards as well, which you'll also need if you or the person you're gifting a CPU to doesn't already have a board with the LGA 1700 socket. 
This holiday season, give (or receive) the gift of Intel
(Image credit: Intel)
Whether you're looking for an excellent no-nonsense gaming laptop or a reliable and performant desktop CPU to complete a rig, Intel has no shortage of options for you to consider during the holidays. 12th Gen Intel Core-powered devices like the HP OMEN 16 and the ASUS ROG Zephyrus 16 are beastly gaming laptops that can handle any game thrown at them, while Intel's new 13th Gen Intel Core processors deliver some of the best CPU performance that the world has ever seen.
They say this is the season of giving, and one of the best gifts you can give to a PC gamer in your life (or yourself—you deserve it!) is the gift of quality Team Blue hardware. Between their performance capabilities and their competitive prices, Intel CPUs and the devices powered by them are sure to bring plenty of joy to you and yours.