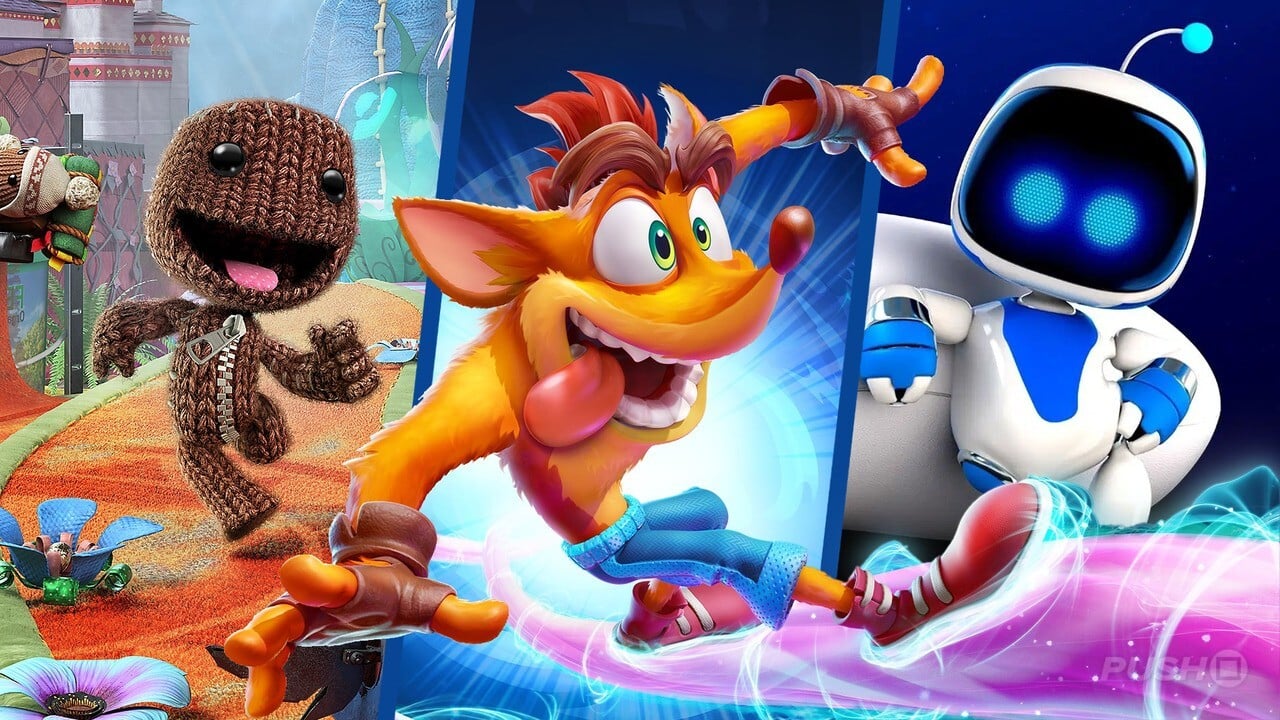 What are the best platformers on PS5? Platformers have been part of the fabric of video games since the medium's infancy, with many of gaming's most famous faces originating from this genre. These games are primarily concerned with testing your ability to traverse tricky environments, but within that definition is a huge variety of experiences, and that includes on PS5.
Of course, platformers can generally be split into 2D and 3D variants. While the former is less common these days, side-scrolling platformers do still come around every now and then. You have games like Cyber Shadow that purposefully apes the stylings of yesteryear, and then there are 2D platformers that push to provide something new, like The Pedestrian.
3D platformers are what you'll predominantly find on PS5, though, and there are some very strong examples. Every PS5 owner has access to Astro's Playroom, for instance, but titles like Solar Ash and Sackboy: A Big Adventure provide the console with a diverse range of platforming goodness. One of PlayStation's most enduring platformer franchises is also present and correct on PS5 with Ratchet & Clank: Rift Apart.
There's a great mix of scale and scope within the genre, so we could do with a hand getting them all in order. The games on this list are ranked based on your votes and ratings, meaning that you are directly influencing the shape of this article. If you want to have your say, you can search for your favourite PS5 platformers using the box below, or simply rate any of the titles you find on this page. Over time, this list will evolve so that it always represents your views on the best platformers on PS5.
A game will need at least 15 ratings before it makes its way onto this page. If your personal favourite platformer is missing, it could be that it just hasn't been rated enough times yet.
So, here's our list of best platformers on PS5, as determined by you.
Publisher: SEGA / Developer: Sonic Team
Release Date: 8th Nov 2022 (USA) / 8th Nov 2022 (UK/EU)
With Sonic Frontiers, SEGA decided to play with the traditional formula of the hedgehog's 3D outings, and the result is one of his strongest adventures in a long time. While certainly not without its flaws, this open world spin on the speedy character is refreshing, giving him ample room to run and plenty of opportunities to engage in bite-size platforming challenges. Most importantly, Sonic feels nimble and fun to control — most of the time, anyway. There's definitely some rough edges here, but it's ultimately an enjoyable game that fans of the franchise will adore.
Open-Zone structure feels fresh
Top soundtrack
Solid story
Traversal is a joy
Over-the-top boss fights
Big the Cat's fishing realm
Lots of pop-in
Takes control away often
Occasionally finicky controls
Cyberspace levels have issues
Publisher: Yacht Club Games / Developer: Mechanical Head Games
Release Date: 26th Jan 2021 (USA) / 26th Jan 2021 (UK/EU)
Do you have a fondness for side-scrolling action games that kick your arse? Cyber Shadow fulfils that role with gusto. Playing as a cyborg ninja, it's up to you to rescue the rest of your clan and fight back against a metallic menace. It's a pretty challenging game, but it does afford you new powers and abilities at a good pace to deal with all those blasted bots. Despite one or two small issues holding it back from true greatness, this is a fun, no-nonsense title with excellent pixel art visuals to boot.
Fun side-scrolling action
Steady stream of new abilities
A fair challenge from start to finish
Great old-school presentation
Some stingy checkpointing
Very occasional difficulty spikes
One or two tiny control issues
Publisher: Skookum Arts / Developer: Skookum Arts
Release Date: 29th Jan 2021 (USA) / 29th Jan 2021 (UK/EU)
There are a zillion platformers out there, but how many take place across various warning and traffic signs? Probably just one — namely The Pedestrian. This is a 2D puzzle platformer that tasks you with reaching the "exit" of each sign, which then connects to another in a 3D environment. That little man who appears on all sorts of signage and iconography we see every day needs your help to reach his goal, and you'll go through all kinds of inventive puzzles to do so. It's not particularly long, but while it lasts, this is an inventive and unique indie title worth checking out.
Creative and well-designed puzzles
Fantastic soundtrack
Great use of PS5 haptic feedback
No hint system
No touchpad controls
Publisher: Annapurna Interactive / Developer: Heart Machine
Release Date: 2nd Dec 2021 (USA) / 2nd Dec 2021 (UK/EU)
Solar Ash is the follow-up to Heart Machine's first game, Hyper Light Drifter, and it's a pretty big departure on all fronts. Unlike its predecessor, this title is fully 3D and has a much larger emphasis on traversal and fluid motion. While you do engage in some combat, it's fleeting and purposely straightforward, again keeping you moving as you tackle each area and their huge bosses. The result is a stylish, slick platformer that feels wonderful to play. It might lack a touch of variety in places, but it's ultimately fun just flitting about in its surreal setting.
Slick, satisfying traversal
Huge bosses are fun to take down
Rewards exploration
Beautiful visuals and music
Atmospheric environments
Main quest becomes repetitive
Enemies, even bosses, pose little threat
Large areas with not much in them
Occasional camera issues
Subscribe to Push Square on YouTube
Publisher: Epic Games / Developer: Mediatonic
Release Date: 21st Jun 2022 (USA) / 21st Jun 2022 (UK/EU)
What if there was a platformer in which up to 60 players compete in chaotic obstacle courses simultaneously? Turns out this madcap idea is genius, because Fall Guys is a cracking online multiplayer madhouse. Playing as a jellybean-shaped clutz, you're up against numerous others through a series of randomly chosen stages, featuring all kinds of platforming challenges. By process of elimination, the winner will be the last one standing, and success earns you lots of excellent costumes and bragging rights. Whether you play solo or team up with friends, this is a hilarious title for all ages, and the best bit? It's free-to-play.
Still great fun to play
Runs perfectly on PS5
Lots to play and unlock
Mostly great stages
Occasional dud levels
Sometimes lengthy matchmaking
Microtransactions feel bad
Winning has lost impact
Publisher: Activision / Developer: Toys for Bob
Release Date: 12th Mar 2021 (USA) / 12th Mar 2021 (UK/EU)
Available On:
Crash Bandicoot is one of PlayStation's most iconic platforming heroes, and now that he's double-jumped onto PS5, there's no excuse for skipping Crash Bandicoot: It's About Time. This sequel stays true to the series' origins, but it's bursting with brand new ideas and jaw-dropping set-piece moments. Running at a flawless 60 frames-per-second in sparkling 4K resolution — and cutting those load times to almost nothing — this release is at its absolute best on Sony's next-gen console.
Stunning 4K visuals
Rock solid 60FPS performance
Vastly improved loading times
Decent adaptive trigger functions
Little to no haptic feedback
Game is still a chore to 100%
Publisher: Ember Lab / Developer: Ember Lab
Release Date: 21st Sep 2021 (USA) / 21st Sep 2021 (UK/EU)
This is the debut game from developer Ember Lab, and it's a strong first effort. Kena: Bridge of Spirits gets top marks for its animation and visual flair, but it's also a very enjoyable action platformer. It puts us in mind of PS2 classics such as Jak & Daxter; you're traversing a sort-of open world environment, collecting things, solving puzzles, and engaging in simple yet surprisingly challenging combat. Those lovable Rot creatures and some tricky boss battles further cement this as a cult hit.
Gorgeous presentation
Simple, satisfying combat
Fun collectibles and secrets
Great setting
Challenging bosses
The Rot
Story is just okay
Some stiff movement
Forgettable character designs
Backtracking
Subscribe to Push Square on YouTube
Publisher: Sony Interactive Entertainment / Developer: Sumo Digital
Release Date: 12th Nov 2020 (USA) / 19th Nov 2020 (UK/EU)
With creator Media Molecule focusing its attention on PS4's boundless sandbox Dreams, LittleBigPlanet's whimsical weaved hero deserved his Super Mario 3D World moment. Sackboy: A Big Adventure doesn't pull up any trees like its predecessors, but is instead a robust co-operative platformer with some memorable musical moments. With a cutesy DIY aesthetic and some surprisingly tight action, it excels in an area that Sony has often been accused of overlooking: fun for the whole family.
Clever, varied level concepts
Fist-pumping soundtrack
Vivid, imaginative visuals
High replay value
Easy to play, hard to master
Online play not included at launch
A handful of filler levels
Subscribe to Push Square on YouTube
Publisher: Warner Bros / Developer: TT Games
Release Date: 5th Apr 2022 (USA) / 5th Apr 2022 (UK/EU)
The force is strong with this one. While there have been several instalments in the past, LEGO Star Wars: The Skywalker Saga is the culmination of TT Games' previous efforts. Encompassing all nine mainline movies, this is a huge platformer adventure featuring all the most iconic sequences you remember from the big screen. When you're not progressing the story, it turns into a sandbox, letting you explore myriad locations from the films and play as one of hundreds of characters. Its gameplay is also more modern than the older LEGO Star Wars titles, sharpening up shooting and making combat more exciting. There's so much to see and do here that Star Wars fans need not play anything else for a while.
Overhauled gameplay
Movies lovingly recreated
Great humour throughout
So much to see and do
Lots of player freedom
Solid presentation
Occasional camera issues
Small performance dips
No online co-op
Subscribe to Push Square on YouTube
Publisher: Sony Interactive Entertainment / Developer: Guerrilla Games
Release Date: 22nd Feb 2023 (USA) / 22nd Feb 2023 (UK/EU)
The headline PSVR2 launch title, Horizon Call of the Mountain is a completely new entry in Guerrilla's imaginative post-apocalyptic universe. While the story can be difficult to follow, the gameplay – which revolves around high-rise platforming – is expertly executed, making you feel like an elite climber in an often hostile world. Beautiful, sprawling vistas and a genuinely jaw-dropping sense of scale combine for an action packed thrill ride that explores the rich potential of Sony's new headset.
Physical platforming gameplay
Jaw-dropping virtual reality vistas
Tons of tactile, interactive touches
Outstanding use of PSVR2's tech
Several memorable moments
Enemies are bullet sponges
Plot is tough to keep up with
Publisher: Polyarc / Developer: Polyarc
Release Date: 22nd Feb 2023 (USA) / 22nd Feb 2023 (UK/EU)
Moss has always been a solid VR game with its engaging gameplay and cutesy lead character, and now it's available on the far superior PSVR2. This version is largely the same that you might've played on the original PSVR, but has been improved with far better controller tracking, crisper visuals, and enhanced lighting. If you're after a short but sweet adventure with some simple combat and puzzles, Moss is ideal, and its superior sequel is also on PSVR2 when you're done.
Massively improved tracking
Sense controls enhance gameplay
Lighting is vastly superior
Game oozes charm
Brilliant soundtrack
Book II is the better game
Relatively short
Publisher: Electronic Arts / Developer: Hazelight
Release Date: 26th Mar 2021 (USA) / 26th Mar 2021 (UK/EU)
When you think of co-op games, one should spring to mind immediately: It Takes Two. This action adventure is from the makers of Brothers: A Tale of Two Sons and A Way Out, and sees you and a partner take on the role of an estranged couple. Turned into dolls by their daughter's tears, you and a friend must go on a wildly imaginative, endlessly varied, adventure to return to normal. Constantly presenting you with new puzzles and ideas, each as good as the last, you'll never grow weary of this brilliant game, playable locally or online.
Fun, inventive co-op play
Ridiculous gameplay variety
Imaginative environments
Secrets and mini-games to find
Great presentation
Accessible controls
Occasional framerate dips
Iffy vocal performances
Inconsistent narrative
Publisher: Sony Interactive Entertainment / Developer: Insomniac Games
Release Date: 11th Jun 2021 (USA) / 11th Jun 2021 (UK/EU)
Up until Ratchet & Clank: Rift Apart released, Insomniac Games' dynamic duo had been wilting in the wilderness a little bit. The PS4 reboot, Ratchet & Clank, was well-received – but it felt lightweight compared to classic series entries, like Ratchet & Clank: A Crack in Time. Fortunately, while Rift Apart doesn't necessarily reinvent the wheel, it does deliver the series' first full-scale adventure in well over a generation. This is a game that feels great to play, thanks in part to stunning DualSense integration and some of the glitziest special effects this side of the galaxy. It's a little more throwaway than many of the PS5's other exclusives, but its thoroughly entertaining while it lasts, and the introduction of new characters like Rivet mean there's a lot of life left in this series yet.
Jaw-dropping presentation
SSD set-piece gimmicks
Arsenal enhanced by DualSense
Inventive gameplay challenges
On the short side
A little too easy
Hacking minigame is disorientating
Subscribe to Push Square on YouTube
Publisher: Polyarc / Developer: Polyarc
Release Date: 22nd Feb 2023 (USA) / 22nd Feb 2023 (UK/EU)
An early star of virtual reality was Moss, and this follow-up builds on those solid foundations. Moss: Book II continues the adventures of Quill, who now has access to multiple weapons to fend off enemies. They also play into the game's puzzles, which are larger in scope and more complex than the first game. It all looks wonderful too — the environments and character animations are gorgeous, and your unique perspective lets you get a really good look at these cutesy levels. It's not a massive departure from what came before, but this five-hour adventure is thoroughly enjoyable from start to finish.
Publisher: Sony Interactive Entertainment / Developer: Team Asobi
Release Date: 12th Nov 2020 (USA) / 19th Nov 2020 (UK/EU)
As far as pack-ins go, Astro's Playroom is exemplary. Inspired by Team Asobi's critically acclaimed PSVR platformer Astro Bot Rescue Mission – itself originally introduced in The Playroom VR – this short-form platformer serves as an introduction to the PS5, specifically the DualSense controller. As you explore cutesy character Astro's vibrant world, you'll physically feel it in your fingertips, from the sensation of rain falling on the hero's hard, steel exterior to the slippery surfaces of ice. All of this, alone, would make it a truly memorable experience – but the game also doubles as a kind of history lesson, exploring many of the most famous moments from PlayStation's past. Simply put, it's an extraordinary four to five hour escapade, and one that every new PS5 owner must play.
DualSense implementation
Inventive gameplay mechanics
A love letter to PlayStation
Adorable art direction
Substantial for a free pack-in
Earworm soundtrack
There's not more of it
Occasionally gimmicky
Subscribe to Push Square on YouTube
So, that's your lot — the best platformers on PS5, as dictated by the Push Square community. Does the list align with your tastes, or are there some titles you feel are in the wrong spot — or maybe not represented at all? It's down to you to make changes, so if you think something's amiss, use the search bar at the top of this article to leave your ratings on any PS5 platformers. Alternatively, you can navigate to any game's page and use the star to rate them. If you can't find a game to rate it, let us know, and we'll get it added to our PlayStation Games Database. All that said, tell us what you think in the comments section below.