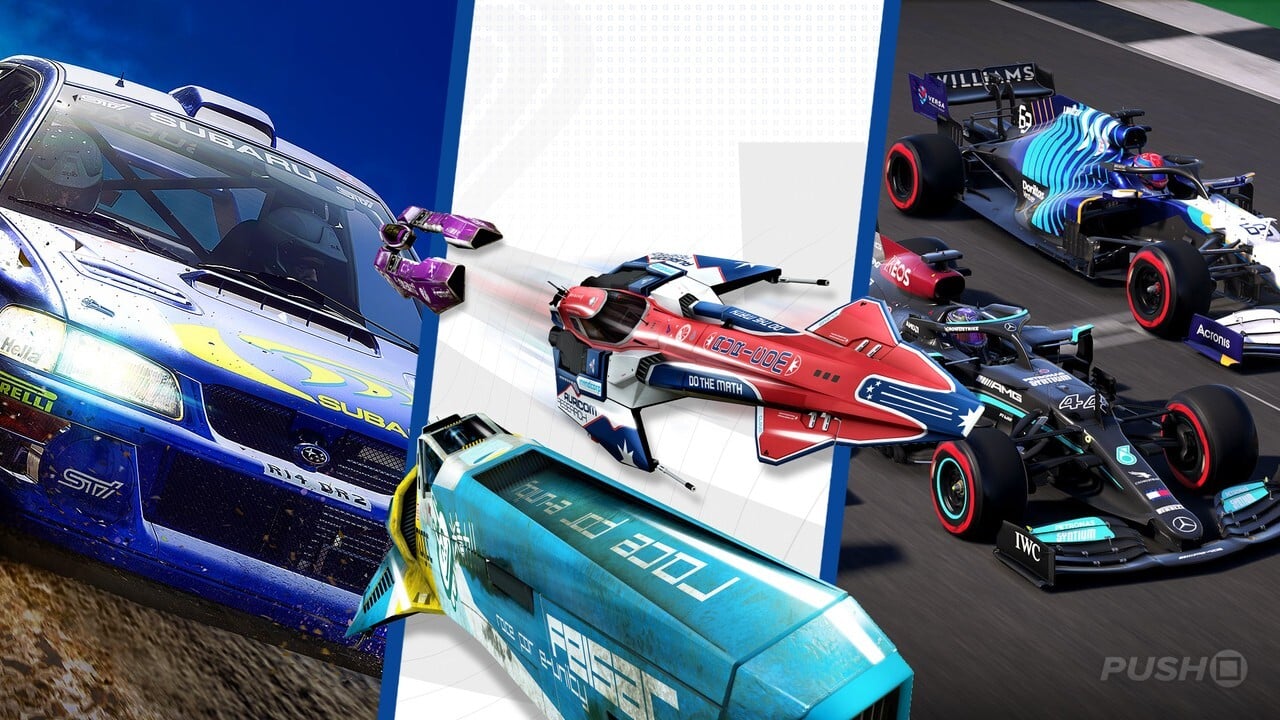 Subscribe to Push Square on YouTube
What are the best racing games on PS4? It's a tough question to answer, as there are a lot of options for car connoisseurs on Sony's super-popular console. No matter what style of racer you enjoy, there are plenty of games you can take for a spin.
Particularly for fans of simulation racing, the PS4 is home to a fine selection of titles. The likes of Gran Turismo 7, DIRT Rally 2.0, and F1 22 are just a handful of the more realistic driving experiences available, and they're all excellent.
However, that's not to say there aren't any arcade racers on PS4. In fact, there are many noteworthy racing games on the console that take a less realistic view. Need for Speed Heat gives you your open world racing fix, while kart racers such as Team Sonic Racing and Crash Team Racing Nitro-Fueled offer more family-friendly high-speed antics.
There are lots of ways to enjoy racing and driving on PS4, in other words. We're here to pick out the best of the bunch, and this is where you lot come in. All the games featured here are ranked and rated by Push Square readers like you. By finding your favourite racing games and giving them your ratings, you can directly influence how this list looks. Clicking the star icon next to each game will allow you to pick a rating, and you can do the same by visiting individual game pages.
The below search bar will allow you to easily locate PS4 racing games you want to rate:
Note: Games need a minimum of 20 individual ratings to be included in this guide. If a favourite of yours is missing from the page, odds are it just needs more ratings before it shows up.
Best PS4 Games
Below is a list of the best racing games on PS4, as ranked and rated by the Push Square community.
Publisher: Codemasters / Developer: Codemasters Evo
Release Date: 5th Jun 2018 (USA) / 5th Jun 2018 (UK/EU)
Onrush is a curious case, as it's not really a racing game. Developed by Evolution Studios alumni, this game is more of an online, team-based multiplayer game on wheels. Though the lack of proper races wrinkled many noses, the game is a ton of fun, featuring bombastic, breakneck matches all about driving with style and taking down the opposition. Various objective-based modes and a vibrant style make it feel truly fresh, and the gameplay is like a smooth spin on MotorStorm. Sadly, it's now delisted and unplayable — but it was a fun ride while it lasted.
Publisher: Electronic Arts / Developer: Ghost Games
Release Date: 10th Nov 2017 (USA) / 10th Nov 2017 (UK/EU)
The Need for Speed series has really been through the mill in recent years, and this version was perhaps the most heavily criticised. Lambasted for its egregious reliance on microtransactions, Need for Speed Payback did eventually restructure itself into something better. Unfortunately the damage was already done. It's a shame, because it's otherwise a perfectly serviceable arcade racer, and certainly better now than it was in 2017.
Publisher: Ubisoft / Developer: Nadeo
Release Date: 22nd Mar 2016 (USA) / 25th Mar 2016 (UK/EU)
The TrackMania franchise has primarily been a PC thing for a long time, so it was great to finally see what all the fuss is about with TrackMania Turbo. This ultra-fast arcade racer is all about completing hundreds of insane tracks as fast as you possibly can, slowly improving your run each time. Various car models and environments change up the gameplay slightly, but the addictive core remains the same. With a robust track editor and numerous ways to play, this is a ludicrously fast racing game for leaderboard-chasers.
Publisher: Electronic Arts / Developer: Ghost Games
Release Date: 15th Nov 2013 (USA) / 29th Nov 2013 (UK/EU)
Need for Speed: Rivals was the first in the series developed by Ghost Games, which took over from Criterion following Most Wanted. It builds on that idea of an open world racer by seamlessly integrating online multiplayer, populating the game with a handful of other players. Playing as either cops or racers, both sides have various challenges and events to compete in. As long as the online aspect is working well, this is a fun time.
Publisher: SEGA / Developer: Sumo Digital
Release Date: 21st May 2019 (USA) / 21st May 2019 (UK/EU)
The PS4 hasn't had many good arcade racers throughout its lifespan, so the arrival of Team Sonic Racing is a pleasant surprise. Like Onrush, this kart racer puts an emphasis on teamwork, but it keeps the cooperation locked to regular races. The collaborative aspects are pretty successful, and even if you don't like the idea, you can play the game as a standard kart racer too. It's not the most fleshed out racing game on PS4, but the on-track action is undeniably a lot of fun.
Subscribe to Push Square on YouTube

View Original Article Source Here